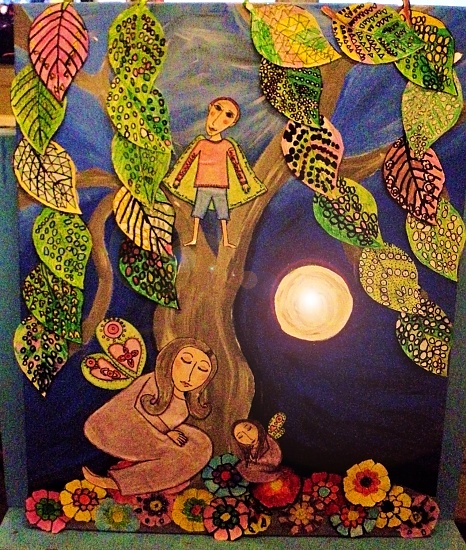 *
I have not been very happy lately.
It's been no secret.
There's no real reason (aside from the obvious dead-husband / life is awful thing).
...and as I've done before in times of stress, I turned to
Pinterest
.
...and I pin things that I think are funny or creative or yummy or fun or sarcastic or just plain awesome.
....and I while away an hour or so just looking at beauty and dreaming.
...and I think I have managed to pull myself out of the funk I have been in since death-week at the start of March.
I've written about the
Uncommon Therapy
I get from photography before, and this burst of creativity has helped my mood.
Inspiration came in many ways:
My Year 1s and I created the most amazing canvas for the school art show. Ours is by far the best. The inspiration came from a Pinterest board on kid's art.
I brushed up my photography skills and took some amazing portraits of a friend's children during the week. ...and for once I was able to get that tricky back-lit light RIGHT due to a few tips I found a link to from a Pinterest pin - Huzzah!
I made brownies from a recipe I found on Pinterest. (Kinda sabotaged my weight loss for the week though so will have to look into that).
...and my garden is looking great due to pure inspiration I gleaned from looking at photos of garden pron on Pinterest.
I'm touching wood as I type, but barring having the Universe rain crap on me for a while ..... I think I am emerging from my apathy towards life.
No promises, but I hope it continues to work.....
(* Apologies for the crappy photo - school camera with approximately .5 of a second to get the shot and on auto setting ... will try to get a decent one on my camera later).